Staying hydrated while on the go has never been easier, thanks to our innovative Tritan Plastic Sports Water Bottle with Slider Lid. With convenience, durability, and functionality at the forefront of its design, this water bottle becomes the ultimate companion for athletes, outdoor enthusiasts, and busy individuals seeking a trustworthy hydration solution. Let's dive into the incredible features that make this water bottle a game-changer.
1. Easy, One-Motion Opening Reveals an Integrated Drinking Straw:
No more fumbling around with complicated lids or searching for a separate straw. With our Tritan Plastic Sports Water Bottle, you can enjoy effortless hydration with its easy, one-motion opening. Slide the lid open, and voila! The integrated drinking straw is ready for use, allowing you to sip your favorite beverages without hassle or spills.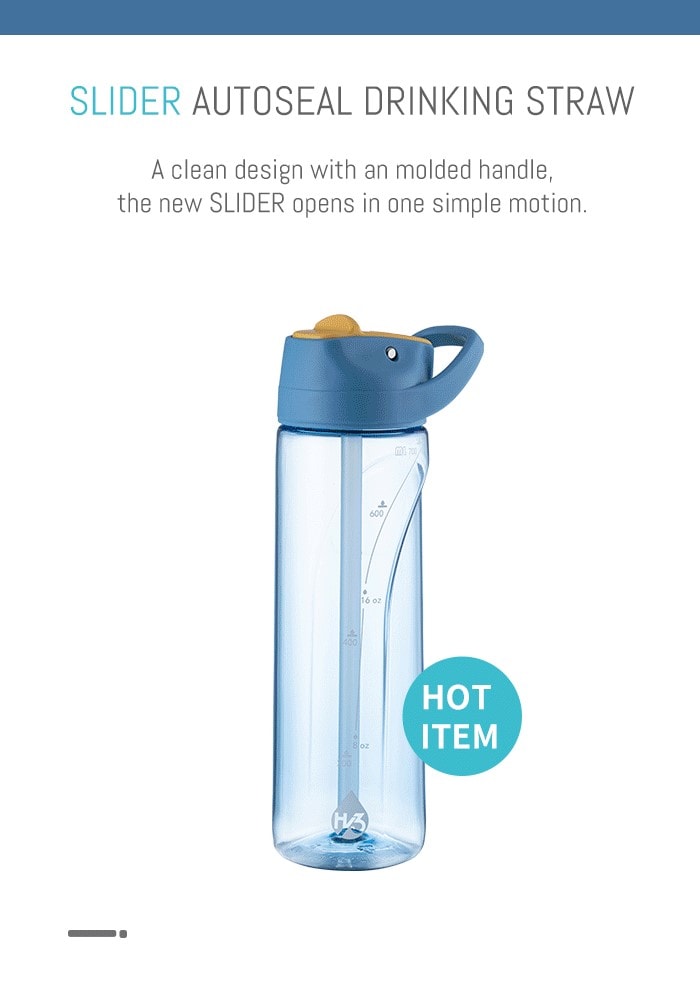 2. Molded Plastic Handle for Easy Carrying:
We understand the importance of portability, which is why this water bottle features a molded plastic handle. Whether you're heading to the gym, embarking on an outdoor adventure, or simply going about your daily routine, you can easily carry this bottle. The sturdy handle ensures a comfortable grip, making it effortless to take your hydration wherever you go.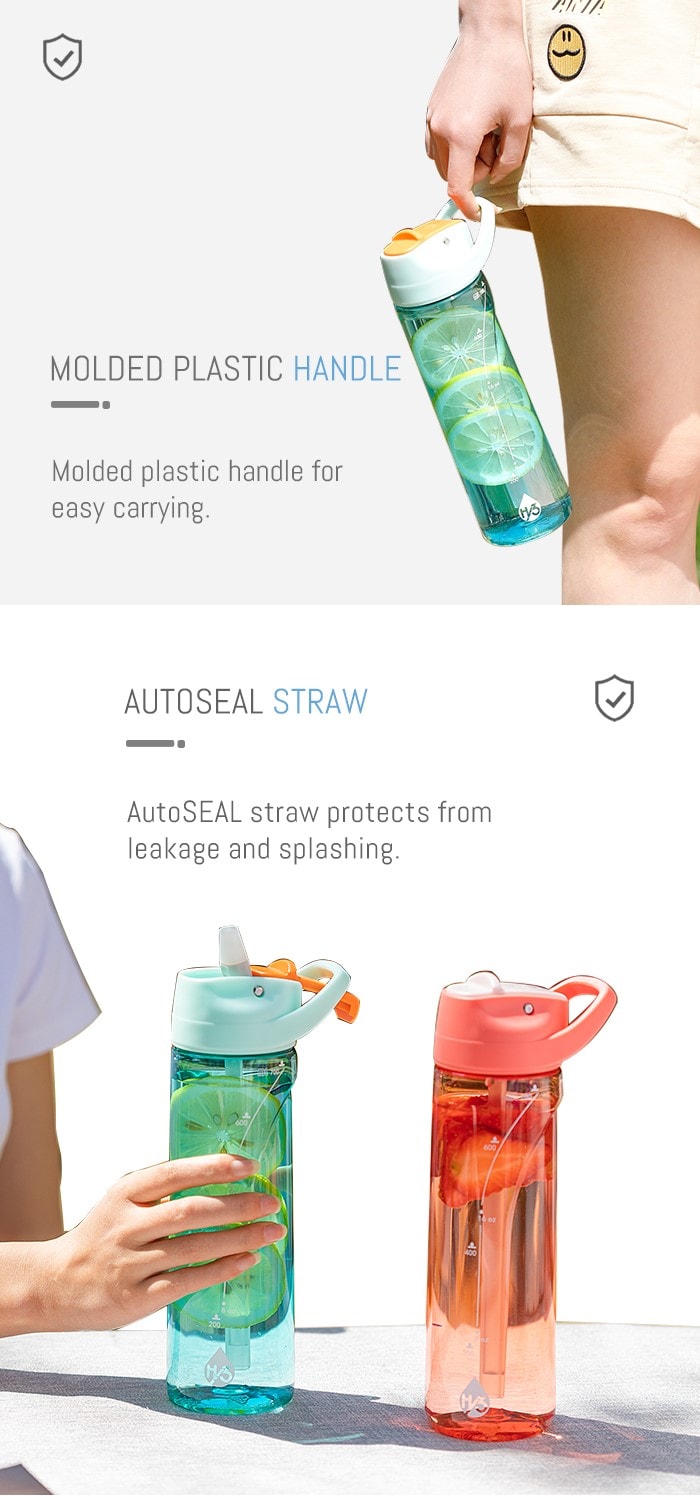 3. AutoSEAL Straw Protects from Leakage and Splashing:
Worried about leakage or accidental spills? Fear no more! Our Tritan Plastic Sports Water Bottle is equipped with an innovative AutoSEAL straw. This technology creates a secure seal when the lid is closed, preventing any leaks or splashes. You can confidently toss it into your bag without fearing moisture damaging your belongings.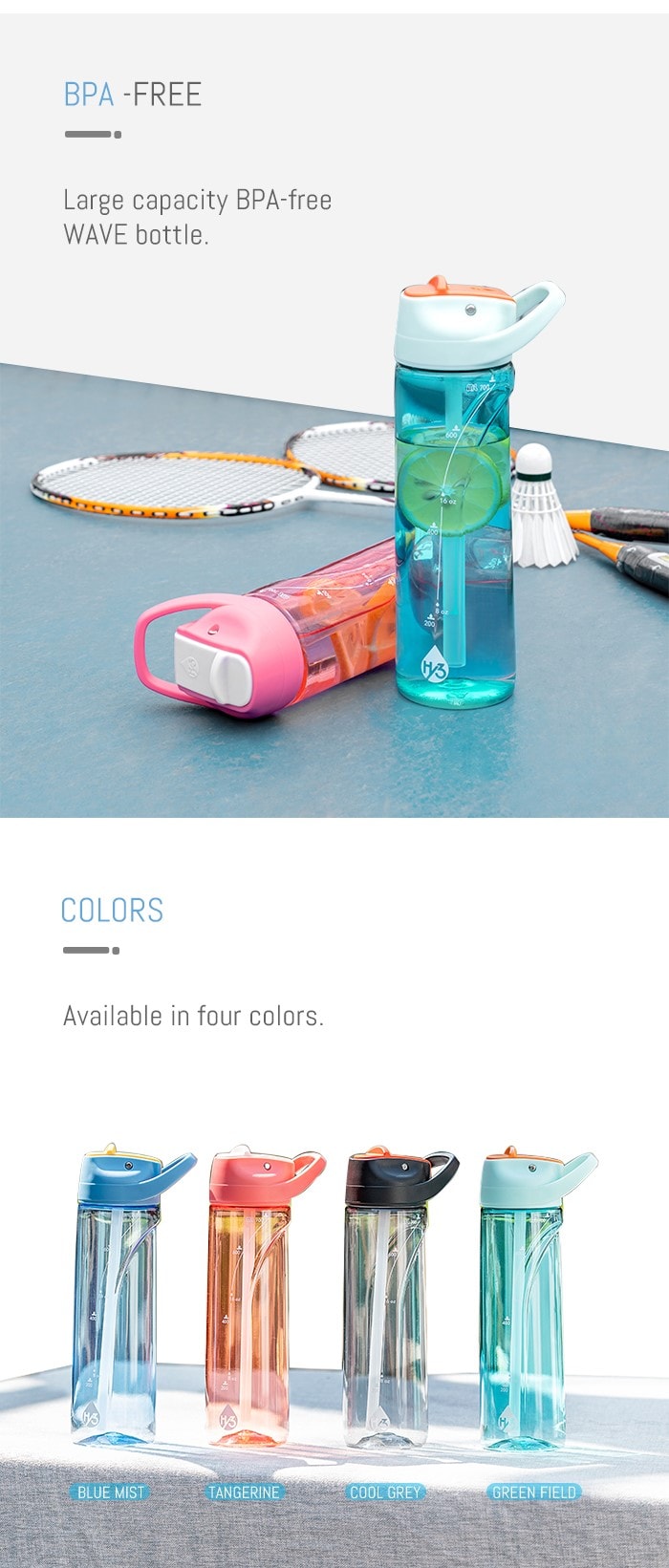 4. Large Capacity BPA-Free WAVE Bottle:
Hydration is critical, and this water bottle offers a generous capacity to refresh you throughout the day. With its sizeable BPA-free WAVE bottle, you can quench your thirst without constantly refilling. The BPA-free construction ensures you enjoy your favorite beverages without worrying about harmful chemicals, making it a safe and eco-friendly choice.
Whether you're hitting the gym, running, or simply needing a reliable water bottle for everyday use, the Tritan Plastic Sports Water Bottle with Slider Lid is perfect. Its intuitive design, featuring an integrated drinking straw and a convenient molded plastic handle, ensures hydration is just a slide away. The AutoSEAL straw technology adds an extra layer of protection against leaks and splashes, providing peace of mind wherever you go.
Invest in this high-quality water bottle, and experience the ultimate hydration solution. Stay refreshed, active, and on top of your game with the Tritan Plastic Sports Water Bottle with Slider Lid.